The Durable Build of the 2018 Ram 3500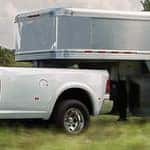 Whether you're hauling heavy cargo in Peoria or exploring rough terrain, you're going to need a truck that can handle it all. The 2018 Ram 3500 is a heavy-duty pickup truck that's built with durability in mind, and it offers even more towing power than the celebrated Ram 1500. It has tough components that will keep you safe and comfortable on all of your drives.
The 3500's ruggedness starts with the frame. It's made from 50,000 PSI steel that has been hydroformed for added strength. This robust foundation is capable of withstanding a lot of wear and tear as well as heavy cargo. It has additional cross members to ensure that you and your cargo are adequately supported. There's also hydroformed contours on both ends so that the truck's suspension system stays secure no matter where you drive.
We invite you to visit us at Sam Leman Peoria today. We'll let you take a look at the 2018 Ram 3500 lineup and put you in the driver's seat for a test drive.